A Great Addition To Your Studio's Offering
As a studio owner, you know that students of varying experience and ability with yoga will attend your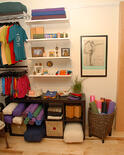 classes. Not every student fits on a standard sized mat. Some students sweat profusely. Others travel regularly for work, or have demanding schedules that make home practice a necessity. Providing and recommending the yoga products and accesories that support their practice is something you take pride in.
If your teachers are like many, they travel across town and around the country or world teaching yoga at various studios.  As the studio owner, you want to ensure that your teachers maintain a consistent practice, and have the tools they need to provide accurate and safe practice guidelines to your students.

In each of these cases, offering your students and teachers Yoga Paws grips as an essential part of their yoga tool-kit will help ensure that the benefits of a consistent yoga practice, something you've devoted a large part of your life to advocating, is accessible to them whenever and wherever they practice. This reflects positively on your intention and your studio.
Yoga Paws are also an attractive way to increase the revenues and profits of your yoga studio retail space or online yoga products store.  Compact and attractively packaged, they are easy to display in even the smallest of spaces, and offer attractive margin potential. They make doing good for your students, and doing right by your business, an easy choice.
Ready to get started?